By Chris McManigal
First of a 4-part series spotlighting the Presidential candidate from the Democrat, Republican, Libertarian and Green Party.
Hillary Clinton is sometimes referred to as the most famous woman in the world. With good reason. She has been in the public eye since 1979 when she first became First Lady of Arkansas when her husband, Bill Clinton, was elected Governor.
When Bill Clinton was elected President in 1993 she became known to country and world over for her outspoken efforts to promote and pass healthcare reform and promote women's rights.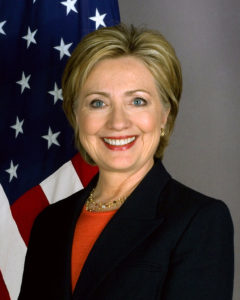 In 2001 she was elected to office in her own right as a Senator from New York and served until 2009, becoming the only former First Lady to win an elected office. During her time in office she led an investigation into the health issues suffered by 9/11 first responders. She also voted for the wars in Afghanistan and Iraq, but later openly regretted her support for the latter.
After an unsuccessful bid for the Presidency in 2008, Barack Obama appointed her to be the 67th Secretary of State, a capacity she served in until 2013. During her term she negotiated a cease-fire between Israel and Hamas. She also supported military action against Libya, but has been subsequently dogged by the killing of 4 Americans in Benghazi. She has also had to contend with an ongoing issue regarding classified emails during her time as Secretary.
As the Democrat party candidate for President, she has made women's rights a cornerstone of her campaign, particularly as it relates to pay parity. She also supports LGBTQ equality, immigration reform, tax reform, universal health care, reducing the burden of student debt for college students and paid family leave for employees.
Hillary Clinton married Bill Clinton in 1975. They have one daughter, Chelsea, and 2 grandchildren.
Age: 68
Education: Juris Doctor, Yale Law School 1973
Net Worth: 31 million
Famous Quote: "Human rights are women's rights and women's rights are human rights."