By: Sophia Romero with Taylor Tapia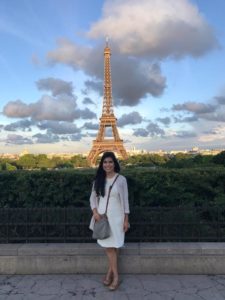 I have struggled with my diet and eating healthy since high school. I have done a juice cleanse, low carb diet and Paleo; however, I do eat relatively clean most of the time—I have troubles eating in moderation and exercise. This brings me to exercise- it is the bane of my existence! I feel like it's a cesspool of germs and a bunch of guys staring at you like you're in a meat market. Now back to health, with winter break right around the corner, it is especially hard to stay active and healthy when all you want to do is snack and hibernate inside. If you're like me during the holidays, have no fear!
My roommate Taylor Tapia has been interested in health and fitness since high school, and hopes to compete in a bikini competition in the future, and eventually open her own gym. When she's not working on her fitness, she likes to hang out with our third roommate Maisie, her miniature Australian Shepard, and her fiancé Matt Keith.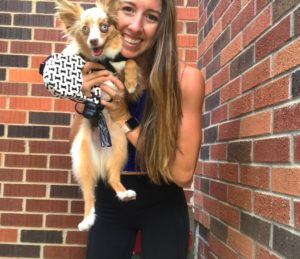 If you're interested in workouts and healthy recipes to try at home, follow her fitness page on Instagram at: tayfit96.
Taylor composed seven tips to stay active during the holiday season below:
Start now: Don't wait until January 1, 2018 to start your New Year's resolution. It is up to you to make the changes in your life. If you have the urge to begin working out, do it now. A date should not oversee your life. Be different than the rest and change your life right away.
Stick to your goals: Statistics show that only eight percent of those who say they want a New Year's resolution accomplish their goals. Considering those statistics, utilize different ways that may help you stay on track; join a class (not just a gym), keep a journal, and most importantly set realistic goals. It is important to have an end goal, but if you only have an end goal you will most likely become frustrated and quit. Set smaller goals that eventually lead to your main goal. This will help you stay focused and consistent.
Don't fast before or after your big Christmas meal: Fasting is never a good thing, it is important to fuel your body throughout the day with healthy, nutrient dense foods. When fasting, you are making your stomach shrink which in turn allows you to eat less. Sometimes this will lead to force feeding, as you become fuller you are still looking forward to eating since you "saved up" all day. By doing this, you will begin to feel sick and groggy. After your big meal, it is important to keep fueling your body, even if you have had more to eat you should go back to eating your regularly portioned meals.
Wait 15 to 20 minutes between plates: When eating, the body goes through different stages: hunger and satiety. Hunger is a psychological response for the need of food. It begins when the stomach is empty, and nutrients are missing from the bloodstream. Satiety is the process of your food entering the gastrointestinal tract. Once food has entered the stomach, your stomach sends signals of fullness to the brain. The process of satiety does not happen right away though. This is where the theory of waiting 15 to 20 minutes comes into play. If you still feel hungry after the 20 minutes, feel free to serve yourself another plate!
Get your family involved: If you are in the process of working towards a new goal, it is important for the people around you to know what you are trying to accomplish. This way they can help you stay on track and keep you motivated when you do not want to continue. This is also a perfect opportunity to encourage them to set a goal as well!
Reset your mind: Think of workouts as your "me" time, not as a chore. Utilize your break, taking the time to try new physical activities. Workouts don't have to be simply running or lifting weights. Try going for a bike ride, joining a yoga class, hiking or snowboarding!
Stay awake: Christmas dinner makes us tired, but don't lay down just yet. After consuming a large meal, it is important to give your body two to three hours to digest. Our bodies are made to digest food in an upright position. Lying down after a big meal can lead to indigestion. Try something simple, like going for a walk after your meal!