By: Nicole Jasso
What a week homecoming was! It was great to see all the students on campus enjoy all the homecoming festivities throughout the week. ENMU is a small campus that most of the students can be involved with most of the activities that homecoming has to offer! One of the fun parts of homecoming is getting to know the homecoming court.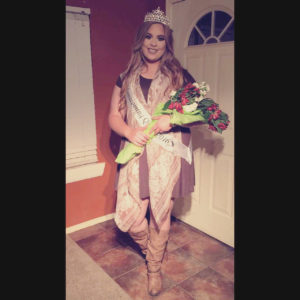 This years queen was Aubrey McCall. She is a senior majoring in broadcast journalism. Aubrey is from Las Cruces but chose to come to  ENMU because she said it felt like home as soon as she came on campus. She is a part of the ENMU spirit squad,  student senate, News 3 NM, and Chi Omega.
Aubrey was nominated by Chi Omega to run as their representative for homecoming but she said that she had always wanted to run for queen because it looked like fun. She remembers how busy homecoming week was, saying "the week was extremely stressful, but helped me to realize how many people genuinely cared and supported me so it was worth it!"  She said, "when I won, I felt an extreme weight lifted off my shoulders. I was so scared that I wouldn't win and after knowing that I had so much support behind me, when they called my name I was so excited to be able to represent Eastern in such an amazing way." Her favorite part about homecoming was being able to talk to so many people at tabling. She said, "I had people supporting me that I didn't even know, and to know that I made a great first impression on them made me feel so accomplished."
This years homecoming was definitely one for the books. With a new football stadium being so close to campus, the stands were filled with ENMU students, alumni, and faculty to cheer on our greyhounds.
Go greyhounds!