By Nicole Jasso
Where were you when the world stopped turning that September day? The song by Alan Jackson always comes to mind this time of year. It is hard to believe that awful day September 11, 2001 will have passed 15 years ago. Most of the students here at ENMU would have been in elementary school or barely starting school. Most of us can't recall that day but some of us can.
Graduate student Gabby Ramirez says, "I was seven years old, in the second grade. My teacher had told us about what happened. I remember how all the teachers were talking about it. When we went home I was watching the news with my parents and watched the towers fall. It was the first time I saw a big impact happen and saw all the people panic. It was the first time I feared the world. The next couple of days when I would go to school I would get scare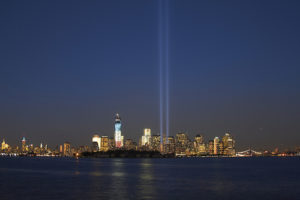 d when I would hear an airplane from the base fly over because I thought that it was going to crash into my classroom."
Battalion chief Lance Hill, who has been a fireman and paramedic for twenty-eight years, recalls what he was doing and how he felt about that day. "I can remember it like it was yesterday. I was on duty that day and remember that I wanted to drop everything that I was doing and go over and help. I remember watching the second tower being hit. We sat around the TV and watched it unfold the rest of the day. At first we saw our brothers and sisters heading in to fight a large fire. As the towers started coming down we watched in disbelief. We saw the devastation on the television and I remember having a feeling of emptiness. I went over and told the Chief if they called for assistance I was volunteering to go. The fact that our country was under attack was beyond comprehension. It is a day that will stay with me forever."
September 11, 2016 will be a day that will never be forgotten. Throughout the day be mindful of those who lost their lives, and the men and women in the military who have served our country.