By: Rae Arnett
Eric Estep, an ENMU Alumnus and Senior Firefighter, and Jessica Smith, a high school math teacher, are a recently engaged couple and are in a competition to win the wedding of their dreams. Their first date was in 2014, after meeting while coaching at NC A&T.
"Jessica came across the 'People I Should Know' section of my Facebook. If you can fall in love with a picture, I did," said Estep.
Their paths had almost crossed multiple times, so close that they shared a favorite restaurant, our very own Something Different Grill. Smith discovered her love of SDG when she coached for Texas A&M University – Kingsville.
It took six months for Estep to plan the proposal. He worked with the principal at Northwest High School, where Smith teaches math, and with some of her students to work out his plan.
"The fire drill was real, but the key administrators were clued in on the surprise. I needed 7 students to help with the signs and music. I chose one of her trusted students and clued her in three days before the big day. We met at the school and rehearsed everybody's positions and assignments. She was thrilled to be included and offered to make the signs. Another student was assigned to share the event live on Facebook, so that her mother, our closest friends, and our families who are spread out across the country could be part of our special moment," said Estep.
Click the link to see how Eric's proposal played out! THE Proposal
The contest Estep and Smith entered is called the Bella Collina Experience. The Bella Collina Mansion in Stokesdale, NC is beautiful and seems perfectly designed to host elegant weddings. When asked why they entered the contest, Estep said it was all for Jessica.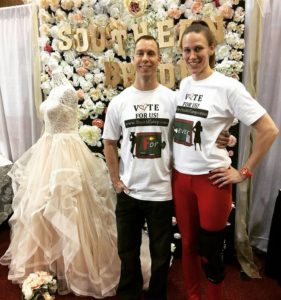 "I believe every woman deserves her dream wedding. Jessica is no different. When writing my
letter to her mother to ask her hand in marriage, I explained several of the traits I have fallen in love with about her. "She is respectful, thoughtful, kind, selfless, nurturing, and most importantly, honest…she encompasses the true definition of a good person. I want her to have a wedding that exemplifies our love and commitment to each other. Unfortunately, our families' financial situations do not allow them to provide the sometimes-traditional financial backing for even a simple wedding, let alone a beautiful Bella Collina wedding and as a firefighter and teacher, though both rewarding careers in many areas, financially rewarding it is not," said Estep.
Voting opens today, February 7th and goes until February 13th. You can vote an UNLIMITED amount of times! Please visit www.bellacollinaexperience.com​.
Lets get behind our fellow Greyhound and help make he and his fiance's dreams come true!